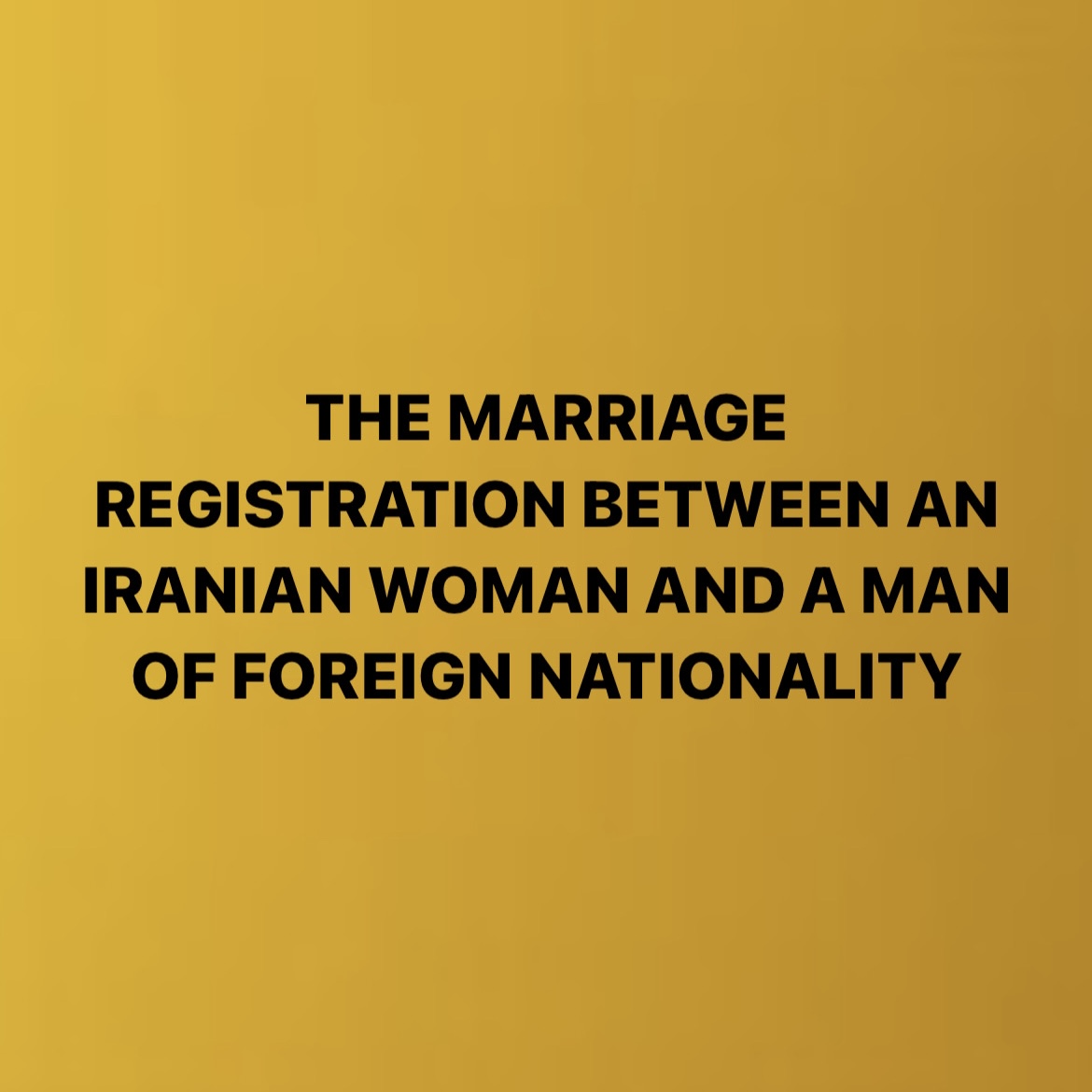 THE MARRIAGE REGISTRATION BETWEEN AN IRANIAN WOMAN AND A MAN OF FOREIGN NATIONALITY
THE MARRIAGE REGISTRATION BETWEEN AN IRANIAN WOMAN AND A MAN OF FOREIGN NATIONALITY
Documents needed:
Register in website mikhak.mfa.gov.ir for marriage and obtain the barcode
The wife's original new Iranian Birth Certificate (Shenasnameh) and her original passport.
The husband's original Birth Certificate (Long Form) and a notarized copy of the first page of his passport.
 A written, notarized consent of marriage, by the bride's father in Farsi is required if this is the bride's first marriage. The father's letter of consent should be notarized in Iran. If he resides outside Iran, a copy of the first page of his passport should be submitted in addition to his letter of consent. A copy of the father's death certificate is required if deceased.
A certificate of declaration of Islamic faith by the husband is required if the woman is Muslim. 8- The original Islamic marriage certificate, either in Farsi or English; which can be obtained from a Mosque or an Islamic center. The certificate should include the signatures of the wife, husband, two witnesses, and the person who has performed the marriage ceremony.
Original marriage license. If the marriage license was issued in a country other than the U.S., its authenticity must be verified by the Embassy of that country and if not in English, it must be translated and verified by the Embassy of that country or an Iranian consulate in that country.
A U.S. Police Clearance Report showing no criminal record for the husband.
 Four (4) identical photographs of the wife and four (4) identical photographs of the husband, based on the photo requirement sheet.
 Photocopy of Iranian national ID card (Karte melli) or passport of the two witnesses.
 For more information, please call us.
Latest Posts
by Shokofeh Amin
SANCTIONS ON INSTITUTIONS OPERATING IN IRAN'S FINANCIAL SECTORUnder the provisions of E.O. 13902, the Secretary of the Treasury identified the financial...
by Shokofeh Amin
A power of attorney, (POA) (VEKALATNAMEH) is a legally binding document to gives one or more persons the power to act on your behalf as your agent to manage...
by Shokofeh Amin
The Office of Foreign Assets Control ("OFAC") of the US Department of the Treasury administers and enforces economic and trade sanctions based on US foreign...