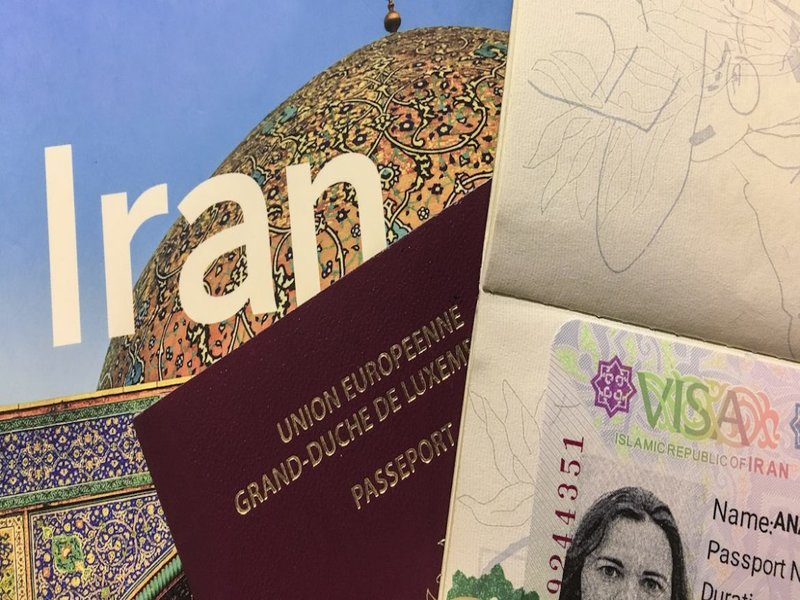 OBTAINING VISA FOR IRAN
Obtaining visa for Iran
تقاضای صدور ویزا برای ایران
A visa is an official document that allows the bearer to legally enter a foreign country. The visa is usually stamped or glued into the bearer's passport. There are several different types of visas, each of which afford the bearer different rights in the host country.
The most common visa types are family, tourist, student, work and transit visas.
Depending on where you are traveling, a visa can be valid for single or multiple visits.
Some visas require an application to be filed prior to entering the country and other visas are granted upon entering the country.
Certain countries require an interview or medical screening prior to applying for a visa.
INDIVIDUAL VISA APPLICATION for Iran
Online Nonimmigrant Visa Application
Online Nonimmigrant Visa Application form, is for temporary travel to the Islamic Republic of Iran. The Application is submitted electronically to Evisa Department, Ministry of Foreign Affairs website via the Internet. Consular Officers use the information entered on the application to process the visa application and may be combined with a personal interview, determine an applicant's eligibility for a nonimmigrant visa.
Visa applicants must submit a completed Online Nonimmigrant Visa Application for all nonimmigrant visa categories, including applicants applying for Entry, Tourist, Work, Treatment, Press, Student, Family, and Investment visas.
Directory of Visa Categories
Your purpose of the trip as well as other factors will determine what type of visa suits you best based on the laws and regulations of the Islamic Republic of Iran. As an applicant, you should be able to fulfil all the visa requirements. A consulate officer will go through your application and documents, and in case of approval, the type of visa you are eligible for will be determined.
The chart below shows different types of non-immigrant visas as well as all the related information.
Visa Types
Description
Who can apply
Documents needed
A – Entry
Visa for Foreign citizens who have an invitation letter from ministries, governmental organizations, private & public sectors, … for the purpose of negotiating, signing contracts, setting up purchased machineries, ….

Educational & cultural Faculty members and researchers
Common Carriers, transporting goods and people
Officials, political, and economic members, art and sports teams, international organizations and specialists
Internationally Recognized merchants and experts
The United Nations employees and affiliates
Relatives of the foreign citizens residing in Iran

Valid invitation
Visa application
Possible interview at the consulate

B – Tourist
Visa for Foreign citizens who intend to travel to Iran for tourist purposes.

Visa application
Possible interview at the consulate

C – Pilgrimage
Visa for Foreign Muslims who intend to pilgrimage to holy places in Iran.

Visa application
Possible interview at the consulate

D – Diplomatic
S – Service

Temporary employees of diplomatic and consular offices, and International organization offices in Iran
Temporary guests of diplomats or official employees residing in Iran
Diplomatic or Official passport holders attending conferences, apprenticeship, cultural & educational programs, …
Diplomatic or Official passport holders with tourist or pilgrimage purposes

Official or Diplomatic Passport
Visa application

E – Education
Visa for foreign students or religious scholars who intend to study in Iran

School students
Student
Researchers

Certificate of Eligibility for Nonimmigrant Student Status from the science ministry, education ministry, or an accredited academic institution
Visa application

F – Temporary Work
Visa for foreign citizens who have the intention to work in Iran

Skilled workers
Specialists in the fields of medical, industrial, …
Engineers

Obtaining the labor certificate from a sponsor employer in Iran, approved by the labor ministry
Visa application

G – Transit
Visa which allows foreign citizens to pass through Iran with no purpose of stay.

Drivers
Tourists
Merchants

Declaring visa to destination
Visa application

H – Media
Visa for foreign media, including members of the radio, prints, digital, press, as well as directors and producers of films, reports, … traveling to Iran to work in their profession.

Reporters
Producers
Cameraman

Visa application
Obtaining the permit from the Media & Public Diplomacy center

I – Investment
Visa for foreign investors whose investment permit is approved by the Organization for Investment Economic and Technical Assistance of Iran.

Approval letter from the Organization for Investment Economic and Technical Assistance of Iran
Visa application

M – Marital
Visa for foreign men who are married to Iranian women, as well as their offsprings. If the marriage has not been registered within the Iranian legal system yet, Entry Visa (Relatives) may be applied for.

Foreign men married to Iranian women.
Children of such a family

Father's official permission regarding the children's trip to Iran
Visa application

T – Medical
Visa for foreign citizens who wish to travel to Iran for medical purposes and have already received an approval letter from one of the authorized medical centers

Patients with physical illnesses

Approval letter from one of the authorized medical centers
Visa application
Important Notice
Take care to answer all questions on the electronic visa application form accurately and completely; otherwise, you may have to reapply your application and reschedule your visa interview appointment.
Electronically submitting your online application is the FIRST STEP in the visa application process. Some visa applicants will need to attend a visa interview, though some applicants may qualify for a visa without interview. You should wait until your application pass all required process within 10 business days. If the embassy or consulate at which you apply informs that you must have a visa interview, the visa application process cannot be completed until you appear for an interview with a consular officer. By changing your application status, an Status email will be send to your email address. You also can check the application status online.
Our office can help you to apply for your Iranian Visa ویزای ایران
We need the following documents to obtain the Visa
A pic of 2*2 passport photo
A pic of the first page of American passport
A pic of birth certificate of applicant
A pic of birth certificate of Iranian mother and National Identification Number
A pic of marriage certificate
Marital status of applicant
Occupation
Email address
Phone number both in Iran and America
Mailing address both in Iran and America
Duration of applicant's Travel
Purpose of Travel
Approximate arrival and departure date
Please Call our office if you have any questions.
Latest Posts
by Shokofeh Amin
SANCTIONS ON INSTITUTIONS OPERATING IN IRAN'S FINANCIAL SECTORUnder the provisions of E.O. 13902, the Secretary of the Treasury identified the financial...
by Shokofeh Amin
A power of attorney, (POA) (VEKALATNAMEH) is a legally binding document to gives one or more persons the power to act on your behalf as your agent to manage...
by Shokofeh Amin
The Office of Foreign Assets Control ("OFAC") of the US Department of the Treasury administers and enforces economic and trade sanctions based on US foreign...