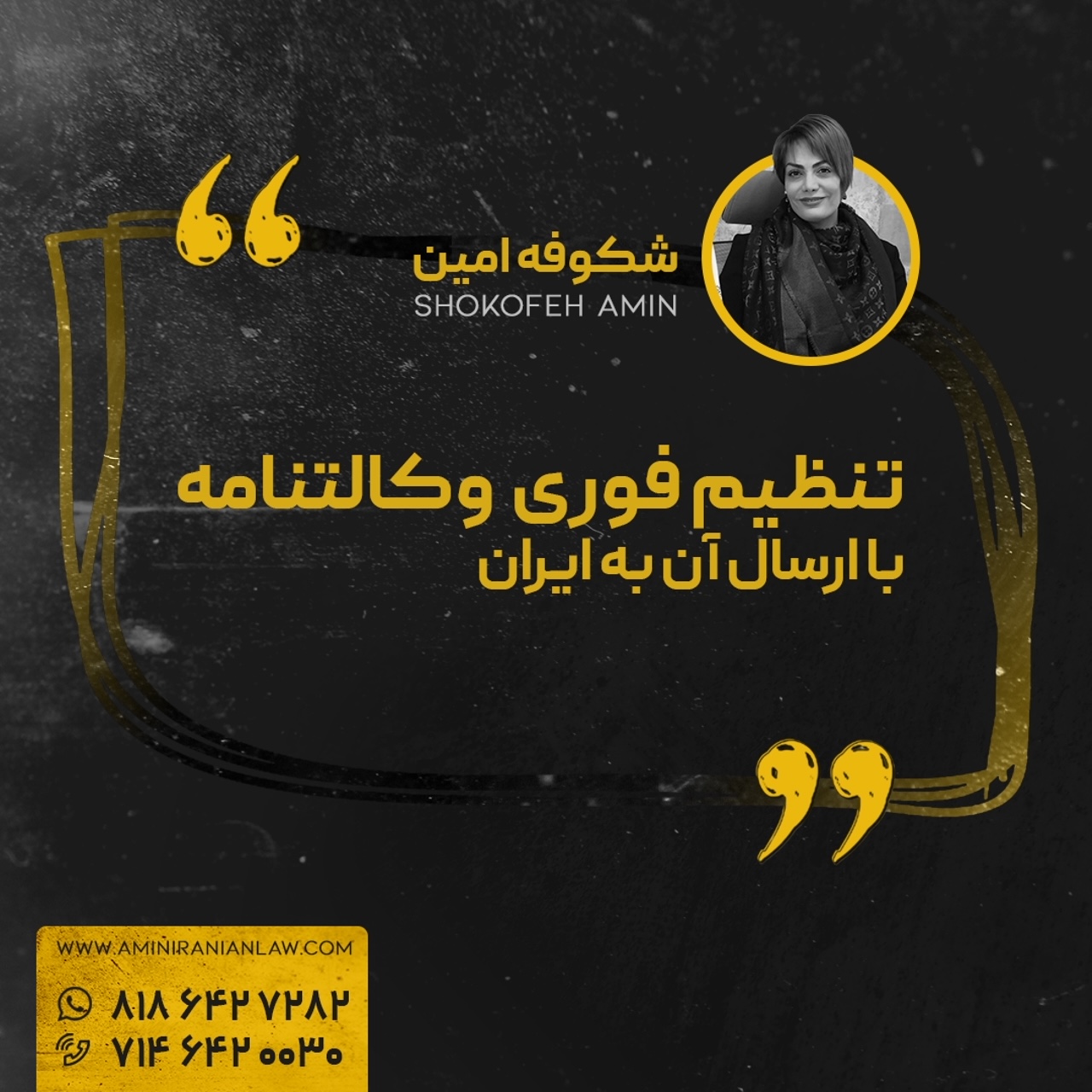 by Shokofeh Amin
A power of attorney, (POA) (VEKALATNAMEH) is a legally binding document to gives one or more persons the power to act on your behalf as your agent to manage your property, financial or administrative affairs. The agent is expected to place the principal's interests ahead of his or her own, which is why it is important for you and your loved one to pick a trusted individual. 
 The type of POA you create dictates which affairs you are granting power over. The decision-making power of an attorney-in-fact takes effect at different times depending on which POA you choose. 
The power may be limited to a particular activity, such as sale of your home, or be general in its application. The power may give temporary or permanent authority to act on your behalf.  
The agent or attorney-in-fact is a fiduciary. That means they are responsible for managing some or all another person's affairs. The fiduciary must act responsibly and practically and in a way that is fair to the person whose affairs they are managing. Anyone who violates these duties can face criminal charges or can be held liable in a civil lawsuit.
No matter which type, any POA is automatically revoked with the death of the principal or agent. power of attorney may be revoked and so require written notice of revocation to the person named to act for you.
Composing, drafting, and legalizing of powers of attorney for performing legal and administrative duties in Iran are regulated by laws in Iran and need specific language. Absence of properly understanding this language can cause monetary damages. To make your POA legally binding, sign and execute your document according to the laws of Iran. which involves either signing in person in the Interest Section of Iran in Washington DC or we can set up a Skype interview to eliminate being personally in the embassy to certify your power of attorney.
The first step for obtaining a POA is through "MIKHAK" website. Pre drafted forms in MIKHAK site are incomplete and require additional editing based on individual needs. 
Our office can prepare and obtain a power of attorney by former Iranian attorney, Ms. Shokofeh Amin, in one week and send it to Iran. your agent can receive a certified copy of vekalatnameh from branches of the Ministry of Foreign Affairs simultaneously.
If you have any questions, please contact us.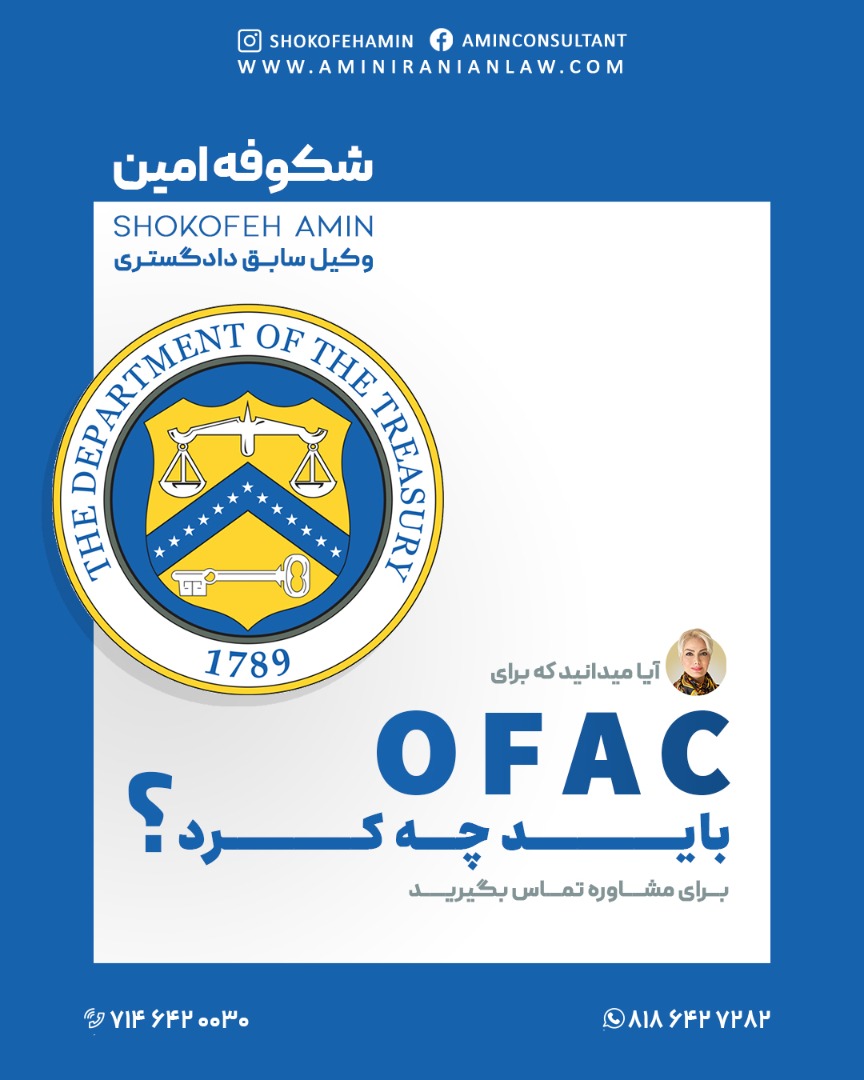 by Shokofeh Amin
The Office of Foreign Assets Control ("OFAC") of the US Department of the Treasury administers and enforces economic and trade sanctions based on US foreign policy and national security goals against targeted foreign countries and regimes, terrorists, international narcotics traffickers, those engaged in activities related to the proliferation of weapons of mass destruction, and other threats to the national security, foreign policy or economy of the United​ States.
What is OFAC and what does it do?
The Office of Foreign Assets Control administers and enforces economic sanctions programs primarily against countries and groups of individuals, such as terrorists and narcotics traffickers. The sanctions can be either comprehensive or selective, using the blocking of assets and trade restrictions to accomplish foreign policy and national security goals.
What is the purpose of OFAC?
The Office of Foreign Assets Control (OFAC) is a department of the U.S. Treasury that is charged with enforcing economic and trade sanctions imposed by the U.S. against countries and groups of individuals.
What is a general OFAC license?
A general license authorizes a particular type of transaction for a class of persons without the need to apply for a license. A specific license is a written document issued by OFAC to a particular person or entity, authorizing a particular transaction in response to a written license application.
Who needs to comply with OFAC?
All U.S. persons must comply with OFAC regulations, including all U.S. citizens and permanent resident aliens regardless of where they are located, all persons and entities within the United States, all U.S incorporated entities and their foreign branches.
Who is considered a U.S. person under OFAC?
The term United Statesperson or U.S. person means any United States citizen, permanent resident alien, entity organized under the laws of the United States or any jurisdiction within the United States (including foreign branches), or any person in the United States.
Why do banks check OFAC?
It administers trade and economic sanctions against hostile foreign governments, terrorists, international drug traffickers, those that proliferate weapons of mass destruction, and other organizations and individuals duly identified as a threat to the national security, economy, and foreign policy of the United States.
Taxation Implication of Receipt of Gift from Iran
Gift is something of value received from a living person without consideration. If the gift is in the form of cash, the recipient is required to report it as "receipt of gift or bequest from a non-resident alien" if the amount exceeds $100,000 per calendar year. Recipients of non-cash gifts are required to report the assets' fair market value if it exceeds $100,000 per calendar year. Generally, foreign gifts are tax free in the U.S.